Successful Relationship Reading Corner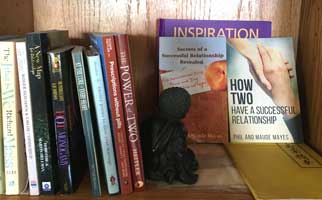 In this week's blog we asked how do you know if this is the right relationship for you. Some good articles here looking at various aspects of this question.

3 Ways to Know When a Relationship Isn't Right for You "I was going out with a wonderful man. He was generous and caring and had a great sense of humor. He treated me well and attended to my every need. But something just wasn't right. I battled with myself for over a month. Every time a fear surfaced about how quickly things were moving, I smoothed it over with a shrug or a hug or a reminder of how lucky I was to have found someone with whom to share my life."

4 Ways to Figure Out If You're With the Right Person or Not "For men and women in the early stages of a relationship—dating, moving in, or even engaged—there's often one lingering question in the air. Skeptical friends and risk-averse relatives alike may ask it. Your girlfriend's mother may turn to you at dinner party and ask, 'I just have to know…what makes my daughter The One?' Or your bachelorette party may be coming to its sloppy conclusion when your maid-of-honor blurts, 'Are you sure you wanna spend the rest of your life with him?'"

How Do You Know that You're with the Right Person? "At some point in most relationships, people ask themselves the same question, "Is this one the right person for me?" Whether you're brand new or seven years in, it's an inevitable question. The question isn't necessarily born out of doubt or insecurity. It can be a normal, healthy skepticism to try and balance out your romantic, attachment feelings for your significant other. We may love someone immensely, but still not be compatible with him or her in the long-term."