Successful Relationship Reading Corner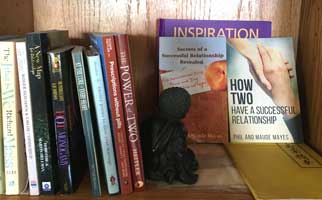 In this week's blog, we wrote about how to find strength from your relationship. Here is a wonderful article from our dear friend Gail Brenner and a couple more articles with great advice on relationships.

10 Ways to Have Peaceful, Loving Relationships "I've made a million and one mistakes in relationships. I've expected too much. Or not asked for what I needed in fear of rocking the boat. I've been competitive. I've been suspicious. I've been dependent. I'd like to think what redeems me from all these mistakes is that I've also been honest. Being self aware, in my opinion, is far more valuable than being perfect—mostly because the former is attainable and helpful, while the latter is neither."

The Secret to Peaceful Relationships "The dictionary defines an expectation as "the act of regarding as likely to happen" and "anticipating the occurrence or the coming of." An expectation is essentially an imagining about the future, a theoretical pseudo-reality that is created by thoughts in the mind. It is a thought that, when taken as real and true, leads us to assume that a given occurrence will happen. When seen for what it really is, it is merely a thought that has nothing to do with what may or may not happen. I may expect my friend to attend the concert, but this expectation is irrelevant to what she actually does. And believing that she "should" attend the concert when she decides not to only sets me up for an unpleasant emotional reaction."

13 Steps to Better Relationships...And Peace of Mind "Sometimes you need to know that you have good people at your back when things go awry in your life.  Good relationships can bring peace of mind, not to mention longer life, companionship, health, happiness, and a host of other benefits.  At bottom, we are social creatures who need each other.  Even meditating monks do it—congregate in communities, that is."