Successful Relationship Reading Corner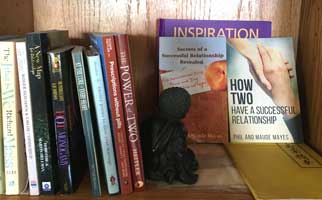 This week we wrote about improving your life and your relationship by setting your intentions. Here are some helpful articles on different aspects of this topic.

The Nature of Intentions in Relationships "How important is intention in the growth and development of healthy relationships? Does the good stuff just happen by itself? Can we make our goals, our dreams, our lives, our relationships happen out of sheer will? Is there always that chance for the development and healing that is required in healthy relationships? Are some people just lucky in relationships?"

Good Intentions? "I recently read an article about the effect of other people's good intentions on us. Others' good intentions have been shown to decrease our pain, increase our pleasure, and, yes, even make food taste better. It's a delight to see a study done that articulates what we know from our own experience. Most of us have witnessed or felt the power of others' good or unkind intentions on us and ours on them. But have we stopped to consider the power of our intentions, kind or unkind, on ourselves?"

Sample Intentions "Intentions are a critically important step in creating a dream life come true. But if you've never written them before, it can be daunting. Here are some sample intentions to inspire you to write your own:"

 
Spreading peace one relationship at a time
Phil and Maude
 
Read our blogs at PhilAndMaude.
Like us on Facebook
Follow us on Twitter and Instagram
Email us at philandmaude@philandmaude.com
If you are interested in newsletters you've missed, see our archive.
 
Do you know anyone who would enjoy this newsletter? Tell them to sign up at http://philandmaude.com/howtwo/.