Learn to Transform Your Relationship
Don't forget we have a workshop coming up! We hope to see many of you there. Book your tickets at Eventbrite and use the promo code TYR for a 20% discount.
Photo of Phil and Maude by Andy Samarasena,
Studio SB
Successful Relationship Reading Corner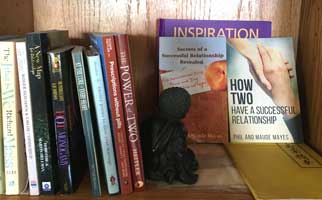 This week, we wrote about our anniversary trip where, as is our custom, we reviewed our year and talked about what we wanted for ourselves and for the relationship moving forward. This is not just an annual event; we connect on a daily basis (our Sacred Space.) Checking in with each other is important to incorporate into a relationship on an ongoing basis. Here are a number of writers describing checking in with their partner.

Why Is Checking in so Important? "What is it that extraordinarily happy couples are doing? One of the important things is checking in. Checking in is taking a brief break from the many competing urgencies of our day to first check inside to see what we are experiencing and then to use that brief break to reveal to our partner what we are experiencing."

Don't Be a Stranger: Checking-In with Your Partner "I have had a number of first sessions with couples where one of them ends up saying some variation of "I didn't know." Whether that is "I didn't know you were so unhappy," or "I didn't know we were in such a bad place" or even "I didn't know I was so miserable." ... I would like to recommend one tool that can help to increase emotional connection and a couple's ability to truly know each other: frequent check-ins."

The Weekly Check-In: How One New Habit Transformed Our Relationship "How does one hour of alone time with your spouse completely change the dynamic of your relationship? I don't really know, but that's what has happened for my husband Alan and I.  So, we decided one day that we were going to do a check-in once a week, on Sundays. What we couldn't predict was how much of an impact the simple act of meeting over bubble tea with a sketchpad and a pen would have on our relationship, and not only that, but in our businesses as well."

 
Spreading peace one relationship at a time
Phil and Maude
 
Read our blogs at PhilAndMaude.
Like us on Facebook
Follow us on Twitter and Instagram
Email us at philandmaude@philandmaude.com
If you are interested in newsletters you've missed, see our archive.
 
Do you know anyone who would enjoy this newsletter? Tell them to sign up at http://philandmaude.com/howtwo/.