Successful Relationship Reading Corner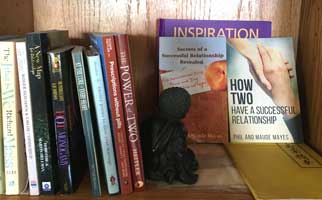 In this week's blog, we wrote about how to stay balanced in your life and relationships. These articles provide helpful suggestions and interesting research on the benefits of mindfulness.

7 Strategies to Face Life's Challenges "In our personal lives, and on a global scale, we face challenges that test our emotional mettle — injury, illness, unemployment, grief, divorce, death, or even a new venture with an unknown future. Here are seven strategies to help carry us through."

The Science and Practice of Staying Present Through Difficult Times "Research into mindfulness has shown the benefits of staying present, and of gently turning towards difficulty. Mindfulness-based relapse prevention (MBRP) trains people with addictive habits to manage their cravings mindfully by staying present to the sensations of craving, rather than trying to distract from them, avoid them or defeat them."

How to Face a Challenge With Confidence "Do not underestimate the power of being present. If you make a practice of facing your challenges—even in failure—with full presence and awareness, you will find most challenges are not challenges at all. Instead life's challenges become messages from the universe. Meditation can help you cultivate silent awareness and is a good tool to help bring that focus to yourself during difficult times."

 
Spreading peace one relationship at a time
Phil and Maude
 
Read our blogs at PhilAndMaude.
Like us on Facebook
Follow us on Twitter and Instagram
Email us at philandmaude@philandmaude.com
If you are interested in newsletters you've missed, see our archive.
 
Do you know anyone who would enjoy this newsletter? Tell them to sign up at http://philandmaude.com/howtwo/.