Successful Relationship Reading Corner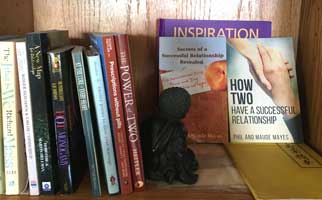 In this week's blog, we wrote about how our connections with community have changed as a result of the stay-at-home orders. We found some interesting articles around this subject.

Helping Others Can Help You Cope with Lockdown "Our first instinct may be to hunker down and protect ourselves and our immediate families. But to get through these times with our sanity and well-being intact, we may need to push back on this initial impulse—to turn outward, not just inward. Research shows that when we put a high priority on reaching out to others, our own mental and physical health flourish."

Here Are 18 Of The Best Examples Of Social Distancing During The Lockdown "Health authorities all across the world are declaring quarantine and encouraging people to practice social distancing by minimizing contact with other people as much as possible and maintaining a distance of at least six feet between themselves... some people [who] think it's best just to lead by example are dedicated to making the best of the quarantine period. And to our joy, they took to Twitter to share their ideas!"

Coming together amid the coronavirus crisis: how Londoners are connecting with neighbours and building micro communities during lockdown "Even though front doors are shut, residents and local businesses are finding new ways of supporting their neighbourhoods, with WhatsApp groups being set up street by street and "angel" volunteers delivering supplies. But there is another epidemic to tackle. Loneliness is a modern urban disease expected to spread during the lockdown. Jessica Kleczka, a student in Islington, is one of thousands posting leaflets through doors to make contact."

 
Spreading peace one relationship at a time
Phil and Maude
 
Read our blogs at PhilAndMaude.
Like us on Facebook
Follow us on Twitter and Instagram
Email us at philandmaude@philandmaude.com
If you are interested in newsletters you've missed, see our archive.
 
Do you know anyone who would enjoy this newsletter? Tell them to sign up at http://philandmaude.com/howtwo/.