Successful Relationship Reading Corner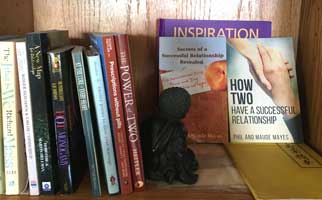 In this week's blog, we wrote about communication and individuality in a relationship. Here are some articles that address this.

How to Improve Communication in Relationships: 7 Essential Skills "We love connecting with other people because it makes us happy. And good communication is the key when it comes to positive social interaction. But what does a healthy conversation look like? How can you avoid overcommunicating? And how can you improve communication in a romantic relationship? Read on for a summary of some important models and theories in the field of communication."

8 Crucial Ways All Couples Can Improve Their Relationships "If you want to improve your relationship, there are plenty of suggestions from experts that discuss trips, staycations, date night, and getting back to basics. While those things might assist, they usually only have a short-term effect; as soon as the romantic situation ends, the original challenges return. Here are some crucial and fundamental ways you can improve your relationship the moment you stop reading this article:"

RELATIONSHIPS This is written in a rather therapeutic style but has good insights into the core aspects of relationships and communication. "In the optimal case the person who loves, in spite of their identification with the other, allows the other to live their life and does not want to take it over. There is the realization that the other is different from one self, a person in their own right and in a very real way the person who loves stands off, enjoying whatever direction the other is taking, even if it is not what they had expected or preferred the other to do. The recognition and acceptance of the otherness of the person also implies an understanding of them. To love well one must love knowledgably and intelligently."