Successful Relationship Reading Corner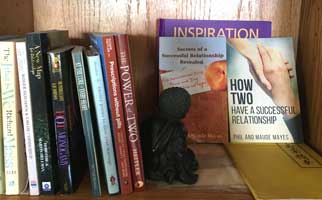 We wrote in this week's blog on making all your relationships a way to spread peace. Here are some articles on how to build better relationships in your life.

Building and Sustaining Relationships "Every relationship is different, but they all matter. If you smile and say hello to the school crossing guard on your way to work every day, you have formed a relationship. That crossing guard may be the one who will be watching out for your kids or grandchildren when they are old enough to walk to school by themselves. The guard will remember you and your warm smile when escorting your child across the street."

5 Ways to Build Stronger Relationships "We all have relationships. We have acquaintances, relatives, colleagues, neighbors and probably some friends. However, for a large percentage of us, many of these relationships are simply not fulfilling. They are unfulfilling because they lack real strength; and they lack real strength because they lack real depth."

5 ways to build a good relationship with anyone "Like most people, I've been working on a few new things. I'm doing more public speaking. I'm experimenting with hot yoga. And I'm trying to build better relationships with the people who matter to me. ... Robin Dreeke is in charge of the Federal Bureau of Investigation's elite Counterintelligence Behavioral Analysis Program. Robin combines hard science and years of work in the field to offer practical tips to build rapport and establish trust."