Successful Relationship Reading Corner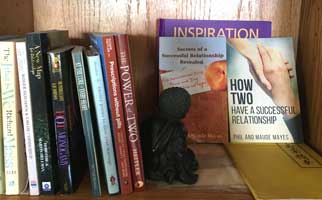 In this week's blog, we said be grateful and don't take things for granted. Here's a bumper crop of articles on this topic. Enjoy!

Gratitude is for Lovers "I had one goal when I started graduate school five years ago—to understand why some romantic relationships thrive while others fail. I also had one primary hypothesis—that relationships fail when partners begin to take each other for granted. And I thought: If taking each other for granted is the poison, then gratitude might be the antidote."

Do You Take It for Granted? "Are you grateful for the life that you have? Or do you take things for granted? Maybe you haven't thought about it for a while. Did you ever fail to appreciate someone you care about? Was that because you were too busy putting out fires or focusing on other things? Or perhaps you assumed they'd just hang around forever."

Why and How to Stop Taking So Much In Your Life For Granted "The week before last, my brother and I visited our Uncle up (up from us Southerners a least) in the Midlands as he has been poorly following a cancer diagnosis. He happened to say something that really resonated with me. He is currently experiencing ongoing pain and discomfort due to his illness. He said to us, "never underestimate how good it is to feel normal." We spoke about this for a while, and he spoke of not taking "normal" for granted."

The Perils (and Benefits) of Taking Each Other for Granted "Few things are more comforting than having a partner you can take for granted. On the other hand, there are potential—though generally hidden—dangers in being "blessed" with such a person, including risks to the other person, the relationship, and ultimately yourself. So what are the pros and cons of such a secure (seemingly immune) relationship?"

The Importance of Appreciation in a Relationship "Appreciation happens to be one of the 3 A's in any healthy relationship: * Acceptance, * Appreciation, * Acknowledgement. As a keen observer, a common thing I happen to notice among many couples is appreciation. Or, to be more precise, the lack thereof. And it appears to be an increasingly common problem with couples who have been together for a while."