Successful Relationship Reading Corner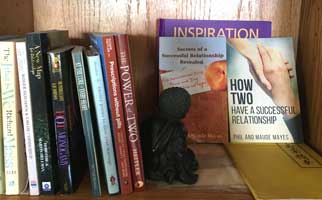 This week we blogged about the importance of being present in life and in your relationship. Here are some great articles about this crucial aspect of living successfully.

The Mindful Couple "As a couples relationship therapist, the question I have always pondered is, can you be mindful or fully present in your relationship? (For the purposes of this post, mindfulness and being fully present will be used synonymously.) I have found the answer to be yes. Not only can you be mindful and present in your relationship, when you add mindfulness to your relationship, it has the potential to be a transformative journey towards healing and wholeness."

How to Foster Better Relationships Just by Being Present "I love to pose a question in my journal and watch carefully for the myriad responses from The Universe. I always know how much attention something needs based on the quantity and clarity of the answers I receive. Lately I've been pondering the question: How can I be a better sister, daughter, and friend? The Universe has been responding with a metric truckload of answers. The common theme? Get present."

How To Be More Present In Your Relationship "There's definitely an art to living in the present, and it's not as easy as it seems. There's always something else to think and worry about, and that can seriously take us out of the moment. Being present is important in every aspect of life, but it can be particularly important when it comes to our romantic relationships. Here's how to get better at it:"
Spreading peace one relationship at a time
Phil and Maude
 
Read our blogs at PhilAndMaude.
Like us on Facebook
Follow us on Twitter and Instagram
Email us at philandmaude@philandmaude.com
If you are interested in newsletters you've missed, see our archive.
 
Do you know anyone who would enjoy this newsletter? Tell them to sign up at http://philandmaude.com/howtwo/.