Successful Relationship Reading Corner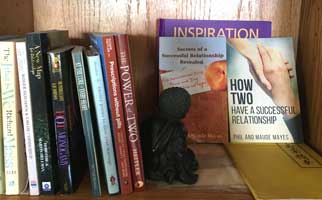 In our blog this week, we wrote about two important ways you can strengthen your relationship -- breathing and presence. We've found some great articles on these topics.

Conscious Breathing: A Simple Way to Work Through Emotional Pain and Be Present in Your Life "I never gave much thought to my breath unless I was submerged under water for long periods without any. Today I rely on it for more than the obvious function of keeping me alive. Breathing has become my biggest tool and best friend. It has become a foundation for living with conscious presence and awareness."

Being present in relationship – Why does it matter so much? "What does presence mean in a relationship, and why does it matter so much? I will sometimes hear a client lament that their partner does not feel "present" in the relationship. This feeling of lack, so acutely felt by one person, can be a complete mystery to their partner. I'll have someone tell me in session, 'My partner says I'm not present in our relationship… I have no idea what they mean.' Here's the short answer..."

9 Practical Ways To Be More Present In Your Life "I once worked with a man (who I will call Tom) who lived in San Francisco. Tom would wake up in the morning to his ringing iPhone alarm, roll over, and immediately check his text messages, his Instagram, and then his two email accounts (in that order).... Tom hired me to help him get to the bottom of his increasingly painful and challenging situation. For some unknown reason, he had a perpetually twitching left eye, chronic tension headaches, and had a panic attack anywhere from 1-5 times on an average week. It didn't take long to decipher that Tom was suffering from a total lack of engaging in being a human."

 
Spreading peace one relationship at a time
Phil and Maude
 
Read our blogs at PhilAndMaude.
Like us on Facebook
Follow us on Twitter and Instagram
Email us at philandmaude@philandmaude.com
If you are interested in newsletters you've missed, see our archive.
 
Do you know anyone who would enjoy this newsletter? Tell them to sign up at http://philandmaude.com/howtwo/.