Successful Relationship Reading Corner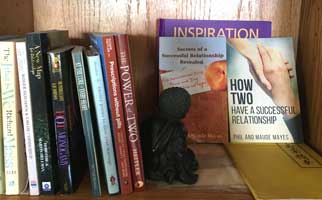 This week, in our blog, we wrote about relationships in the year of the virus. Here are some articles with suggestions on how to deal with the stay-at-home orders and your relationships.

More conflict but more sex: Relationship advice for couples living together amid coronavirus "Many people are staying home to curb the spread of coronavirus. We're working, exercising, educating little ones, and caring for our partners and other family members – all under one roof. This increased personal time can be stressful. How do you manage that, especially when you're listening to dire news?"

Coronavirus: How To Ensure Your Relationships Survive Self-Isolation "Lots of people are now working from home full-time or looking after their children due to school closures - meaning we are all spending more time behind closed doors - but how will this impact our relationships?"

Quarantine can test any relationship. A couples therapist explains how to cope. "How are we going to make it through this coronavirus pandemic? That's a question I've asked myself more than once since the Covid-19 pandemic created what amounts to a nationwide quarantine in the United States — and many other countries. My wife and I have a good, strong marriage, and we really do love spending time together. But being in the same apartment 24/7, with no obvious end in sight, makes it feel like there's a storm rumbling on the horizon. Right now, we're getting along famously. In a few weeks, that might be less true."

 
Spreading peace one relationship at a time
Phil and Maude
 
Read our blogs at PhilAndMaude.
Like us on Facebook
Follow us on Twitter and Instagram
Email us at philandmaude@philandmaude.com
If you are interested in newsletters you've missed, see our archive.
 
Do you know anyone who would enjoy this newsletter? Tell them to sign up at http://philandmaude.com/howtwo/.