Successful Relationship Reading Corner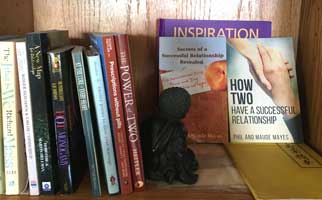 In this week's blog, we looked at the stresses of living together during this time, and talked to a number of people about this. These articles cover various ways to deal with the situation.

Can Your Relationship Survive the Togetherness of a Pandemic? Here Are 11 Things Couples' Therapists Recommend "Have you recently noticed how loud your partner chews? That her placement of items in the fridge is illogical? That his consumption of toilet paper/soap/the good snacks is remarkably high? That parenting is not one of his or her core strengths? If so, you might be married during a pandemic."

The coronavirus lockdown could test your relationship. Here's how to keep it intact (and even improve it) "If you're both working from home, and with nowhere to go out to in the evenings, there's a chance you might start to get on each other's nerves. Perhaps it's happening already. This is normal, particularly given the increased stress we're all feeling right now. But since we could be in this predicament for a while yet, it's worth taking steps to ensure we get through this period with our relationships intact. We might even be able to come out stronger."

How the Coronavirus Can Damage Relationships "Death and financial upheaval are of course the primary concerns in the COVID-19 pandemic. But people aren't the only targets of the virus—relationships can die too.... The first question is, what is happening? Is it that couples who would otherwise have remained happily married are torn apart by the extensive and enforced time together? Or is it that couples who would otherwise have eventually gotten divorced anyway are simply getting divorced sooner?"

 
Spreading peace one relationship at a time
Phil and Maude
 
Read our blogs at PhilAndMaude.
Like us on Facebook
Follow us on Twitter and Instagram
Email us at philandmaude@philandmaude.com
If you are interested in newsletters you've missed, see our archive.
 
Do you know anyone who would enjoy this newsletter? Tell them to sign up at http://philandmaude.com/howtwo/.