Successful Relationship Reading Corner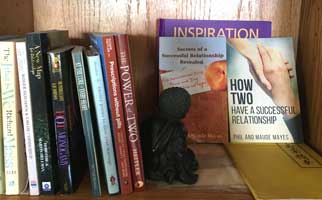 In this week's blog Maude wrote about the importance of belief and intention in a relationship. Here are some articles discussing intention and its effect on relationships.

The 4 Qualities Of A Conscious Relationship "We are approaching a period of time when relationships are ready to go through a major redesign. The current paradigm isn't working. People are unsatisfied in love; people don't know how to make relationships work. And, believe it or not, this isn't a bad thing. Because when systems break-down, that's when they change. I believe that's what's happening in the area of intimate partnership. The break-down is forcing us to move towards conscious love. So what exactly is a conscious relationship?"

The Nature of Intentions in Relationships "How important is intention in the growth and development of healthy relationships? Does the good stuff just happen by itself? Can we make our goals, our dreams, our lives, our relationships happen out of sheer will? Is there always that chance for the development and healing that is required in healthy relationships? Are some people just lucky in relationships?"

Sample Intentions "Intentions are a critically important step in creating a dream life come true. But if you've never written them before, it can be daunting. Here are some sample intentions to inspire you to write your own:"