Successful Relationship Reading Corner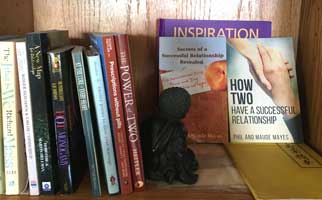 In this week's blog, we asked what do you reap when you take a leap in your relationship? Here are several different ways of looking at that question.

Conscious Relationships: A Path for Growth and Personal Transformation "A conscious relationship comprises a path for growth and personal transformation that is seen by some as a spiritual calling. The partners in a conscious relationship are committed to the radical practice of love. They are not trying to extract love, approval or security from their partner, but instead seek to behave lovingly toward each other. In conscious relationships, each partner is committed to their own growth and to the growth of their partner over and above maintaining the relationship, per se."

Use Positive Psychology to Transform Your Relationship in Four Steps "Everlasting love can be more than just something you see in Disney movies - if you master four habits from the field of positive psychology. That's according to a husband and wife team who've spent the last decade researching positive psychology and working on a book trying to distil the secrets to relationship success into bite-size rules. "Promoting a healthy (rather than an obsessive) passion, cultivating and prioritising positive emotions, taking time to mindfully savour experiences together, and seeking out strengths in one another.""

To love is to nurture: The secret to real relationship transformation "Stop saying 'I love you.' And start saying, 'I will nurture you.' Shocking right? Yet when you give this one a try; the results will speak for themselves. From the first session I invite couples to lay down the word 'love' and instead use the word 'nurture'. When we say we want someone to love us, we actually mean we want someone to nurture us."