Successful Relationship Reading Corner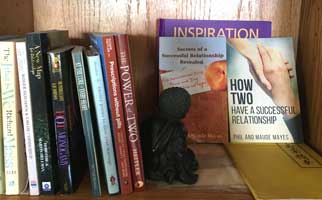 In this week's blog we wrote about why you need to be present in your relationship. Here are some articles about aspects of presence.

Mind Your Presence, It Matters "I think that most people—whatever their preferences or principles might be—can get behind the notion that the world would benefit from more peace and understanding. But regardless of how monumental it might seem to accomplish that, it starts in small and simple ways. It starts with you and me, right here and now. ... I invite you to consider how you can begin to get intentional about the way you show up in the interpersonal encounters of your daily life."

6 Ways to Bring More Presence and Connection to Your Relationships "When was the last time you looked into the eyes of a stranger such as a guy taking your order or the woman at the checkout and really acknowledged their presence? Actually, when was the last time you looked into the eyes of your partner or your children for a prolonged stretch of time? In our hectic lives, we are always so busy trying to accomplish one thing or another, that it's easy to become distracted and disconnected from the people around us. Here are my 6 top tips on how to bring more presence and connection into our everyday encounters with people."

Your Brain, Mindful Presence and Five Practices to Energize Your Relationship, 2 of 2 "You want happiness? The best option is to grow your ability to empathically connect to your self and partner, in present moments of awareness. It's a way of knowing, understand your self, and life around you that is connected to your compassion, and that allows you to best understand and empathically connect to your partner."