Successful Relationship Reading Corner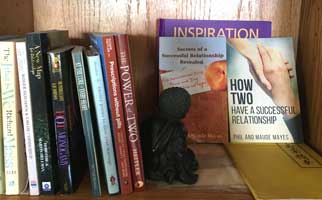 This week we blogged about core values and how they affect your relationship. Here are some helpful articles that also discuss this topic.

The key for a successful relationship: Aligned values "Aligned values are one the most important things in any relationship. Whether it is with your life partner or business partner, aligned or misaligned values will define the success or failure of a relationship from day one. I like to visualise this as a pyramid, where at the very top you have your values, and below that, you have your life vision, then your objectives, and then at the bottom, your interests."

7 Ways to Tell If You'll Work as a Couple Long-Term "Seven core value types have been identified as universal—acknowledged and ascribed to around the globe. So no matter where you live, chances are strong that you have already formed your own personal values, to some degree, in the seven areas listed below. Research also indicates that relationships that are built on shared values are much more likely to endure—sure, a fantastic lover offers thrills and chills, but someone who shares your core values will be by your side once the early excitement subsides and the goosebumps disappear."

Understanding Your Core Values in Relationships (No They're Not Your Common Interests) "One of the things that people are most confused about and that I get asked a lot of questions about, is the issue of 'common interests' and letting superficial things inadvertently get mixed in with your 'core' values. Over the past few days I've been talking about value and values in relationships, and in this post, I put a clear division between the nice to have stuff that doesn't actually cause your relationship to endure unless you have the 'core' values covered off."

 
Spreading peace one relationship at a time
Phil and Maude
 
Read our blogs at PhilAndMaude.
Like us on Facebook
Follow us on Twitter and Instagram
Email us at philandmaude@philandmaude.com
If you are interested in newsletters you've missed, see our archive.
 
Do you know anyone who would enjoy this newsletter? Tell them to sign up at http://philandmaude.com/howtwo/.