Successful Relationship Reading Corner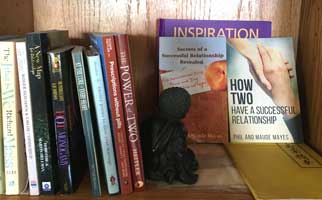 In this week's blog, we've written about a form of reframing that can improve your relationship. Here' are some articles that present positive reframing in different and interesting ways.

What Kind of Frame is Your Relationship in? "In counseling, it's common to hear stories about how a person believes their significant other has "changed" over the years. While this might certainly hold elements of truth, it's also possible that we have changed the way we "frame" their qualities, based on our own thoughts and perceptions.  None of us are perfect!  Every relationship has elements of positive and negative, to varying degrees. How we view our significant other depends on the frame we choose to use. This is the concept of reframing."

30 Positive Reframes: How to Start Changing Your Perspective on Life "The single most important attribute in cultivating happiness and success in your life is your ability to create positive reframes. A positive reframe is taking a situation and trying to find something good in it. It's incredibly simple in theory, but it can be very difficult to practice. Two people can have the same exact experience but walk away from it with a completely different perspective and interpretation of the facts. This is the power of reframing."

Say I Do to Positive Thinking and Thriving Relationships "The Top Five Movement helps you notice the positive qualities, acts and strengths in other people. And the Top Five Movement helps others notice the positive qualities, acts and strengths in you. Doesn't that sound like a win-win and something worth giving a crack? Writing a Top Five is pretty powerful stuff. It's not just about thinking to yourself, "Wowza, my hair looks amazing today." That's great; we all love a good hair day. But the act of sitting down and writing a Top Five means that you are analysing your day, your people, your actions, your world for the good. That practise becomes a part of your consciousness, and you become a master of positive thinking. From there, your gracious and optimistic perspective turns to gracious and optimistic actions, and you become more connected, confident and communicative. You become more mindful, emotionally balanced and generous. You are awesome."

 
Spreading peace one relationship at a time
Phil and Maude
 
Read our blogs at PhilAndMaude.
Like us on Facebook
Follow us on Twitter and Instagram
Email us at philandmaude@philandmaude.com
If you are interested in newsletters you've missed, see our archive.
 
Do you know anyone who would enjoy this newsletter? Tell them to sign up at http://philandmaude.com/howtwo/.