Successful Relationship Reading Corner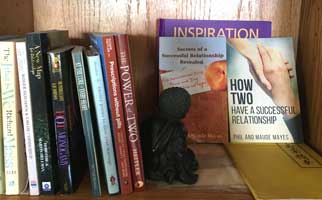 In this week's blog, we wrote about how we retain peace of mind during these turbulent times. The keys are recognizing each other's individuality and accepting that completely. Here are some articles describing how to do that.

Preserving Individuality to Strengthen Your Relationship "To maintain a successful relationship it is necessary that both people maintain their own individuality and respect the individuality of their partner. Each is concerned with their own and their partner's continued development as a person. In my book, Daring to Love, I write about achieving this by remaining adult, open, undefended, and honest in your interactions. I also discuss the importance of regarding your partner as a sovereign individual, separate from you and your relationship."

How to Accept Someone for Who They Are in a Relationship "One of the ways to a healthy and successful relationship is genuinely accepting your partner for who they are. However, most couples fail to recognize this fact because they are either too busy looking for perfection or too occupied focusing on their partner's flaws. If you're currently facing the same challenges in your relationship, don't worry. This article will help you figure out different ways to help you overcome them."

Accepting Differences Between You and Your Partner "I was thinking about acceptance the other day and was realizing that this is a practice that might take a long time to get good at, especially when we are talking about relationships. You see, all of us pretty much like who we are. We like how we think, how we behave and act. We like our ways. And many of us get really perturbed when our partner doesn't agree with us. They might do something different than what we learned growing up. Or they might like something arranged differently then how we prefer. They might even say things we would never say."

 
Spreading peace one relationship at a time
Phil and Maude
 
Read our blogs at PhilAndMaude.
Like us on Facebook
Follow us on Twitter and Instagram
Email us at philandmaude@philandmaude.com
If you are interested in newsletters you've missed, see our archive.
 
Do you know anyone who would enjoy this newsletter? Tell them to sign up at http://philandmaude.com/howtwo/.