Affiliates

Welcome To Our Affiliate Program!
Our program is free to join and very easy to set up.
What is an Affiliate Program?
Affiliate programs are common throughout the Internet and offer website owners an additional way to profit from their websites. Affiliates generate traffic and sales for commercial websites and in return receive a commission payment. When you join our affiliate program, you will be supplied with a range of banners and textual links that you place within your site. When a user clicks on one of your links, they will be brought to our website and their activity will be tracked by our affiliate software. Once a sale is completed from the traffic you send us, you earn 50% commission!
How to Join
Join our Affiliate Program today and start earning 50% on eBook sales. Affiliate tracking and payments are handled by e-Junkie, one of the largest affiliate program providers on the Internet. Payments are made by us through PayPal within 2 weeks of the end of the month.
If you want to sell the paperback book, the Amazon Affiliate Program is the way to go.
Banners
After signing up, use the following banners on your website: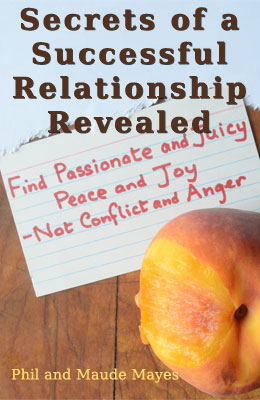 Promotional Materials
Here is a description you can use to help sell the book.
"Do you realize that in the year that we've known each other, we've never argued?"
It was that initial insight that led Phil and Maude to explore their relationship and write this book. Written in a combination of their individual voices and a blended voice, this concentrated and powerful little work captures the essence of how they are together, going right to the heart of what makes a successful relationship. Their clear, crystalline writing and stark honesty will challenge you to examine your own life and how you relate to others.
The approach is radically different from the usual relationship book. Phil and Maude offer no rules and no exercises. Rather, through their sincere examination of what makes their relationship so different, you will find yourself gaining insight into your own behavior and at the same time glimpse other possibilities.
For anyone in a relationship, or seeking to be in one, this special gem is a must read.
(Add your affiliate link here.)