How Two: Have a Successful Relationship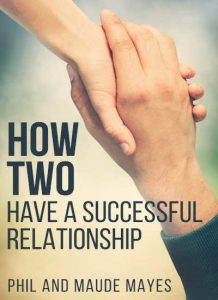 In this book, Phil and Maude share a simple step by step process that is easily accessible to everyone. Read their personal experience of how it's possible to have a loving passionate relationship without conflict and alienating arguments, one based on shared core values and a complete acceptance of each other's individuality.
They have outlined an effective process for creating mutual solutions. Their strong desire to make their direct experience available to all couples shines through their writing and will renew your faith in what is possible and attainable. What is offered is a path to transforming your relationship.
In this book you will learn:
* How to find mutual solutions to decision making and problem solving
* How to remain an individual within the relationship
* How to break the vicious cycle of anger and recrimination
* How to avoid the pitfalls that create separation and estrangement
* How to keep that original loving connection to your partner
This book is a gem. It's short, it's practical, it's based on real life experience. If you want to improve your relationship, this is the book for you.
"Phil and Maude know what it takes to have a successful and fulfilling relationship. In their new book, 'How Two: Have a Successful Relationship', they use honest, real life examples that actually work for couples wanting to create harmony and deep satisfaction in their relationship. If you are looking to finally establish true acceptance, intimacy, and a lifelong connection in your relationship, their book is a great read."
Michael Fiore, Digital Romance.
"Phil and Maude actually live in a conflict-free relationship. Now they've written a book that offers up their secrets to the rest of us. I laud and celebrate this generous gift to me and to couples all over the world."
William Weil, host of the Conscious Couples Conversations podcast.
Here's a foretaste of "How Two: Have a Successful Relationship":
Another Way
We live a conflict-free relationship. It's been more than a decade now full of peace, love, joy and passion. Friends check in with us every so often: "So you still haven't had any arguments?" The answer is always "No."
Acceptance
Squabbles in a relationship are like stones in your shoes; they don't have to be there.
Individuality
One of the keys to a peaceful and joyous way of relating is to accept and respect each other as two separate and absolutely unique individuals. In our relationship, this is a critical part of how we are with each other.
Our Process
When there is something we need to agree on, whether it be a decision we have to make or a problem that needs to be resolved, we have found a way of dealing with it that does not involve any struggle or conflict.
Being Present
Being present means paying attention to what is actually happening. We get on so well because we practice this with each other; what is in the moment is more important to us than what has happened or what might happen.
Sexuality, Intimacy and Union
For us, as for many couples, sexuality is a place where we have a direct experience of union – a sense that we have merged to form one body. The sense of self as an individual, separate experience still remains, but there is this additional sense of connectedness. Sex is like a step-ladder; it enables us to reach a higher place, a vista of union that transcends the physical.
Peace
One of the most surprising aspects of our relationship is the direct experience of peace that it engenders. This follows naturally from the alternatives to conflict that we practice. For us, peace is not a void described by the absence of conflict, anger or war. Peace is an actual experience.