Successful Relationships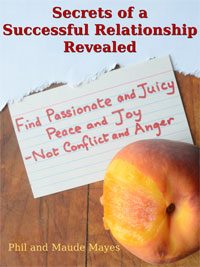 Doesn't everyone want a successful relationship? And yet, again and again, it turns out to be elusive. It wasn't like that for us. On our first anniversary of meeting, we said:
"Do you realize that in the year we've known each other, we've never argued?"
Why We Wrote a Book
That initial insight led us to explore the nature of our relationship. We were astounded again and again by its peaceful nature. We found an amazing lack of conflict, and an ever increasing experience of joy, ease and harmony. This was so radical, we knew we had to get the message out, so we wrote "Secrets of a Successful Relationship Revealed".
"This book is a useful exploration and dialog on the possibility of conflict-free relating. My partner of 20 years and I read it aloud to each other. We used the concepts as a springboard for deep discussions about our own relationship style, and found that they helped us to improve our communication skills and enhance the quality of our love and respect for each other's individuality." Jenny Phelps and Richard Niles
The Past is not the Future
We know what you're thinking – it sounds too good to be true. You may attribute our claim of a successful relationship to background or luck, but that's not our experience. Maude comes from a loving family, and she says this is the relationship she observed with her parents and always sought. On the other hand, I (Phil) came from a suppressed English family, who, for example, dealt with sex education by sending me to the local vicar, whose embarrassment matched mine. In my whole life, relationships have lasted three years or so; a couple extended to 5 years if you include all of the messy disintegration.
It's Really Possible
But here we are today, living proof that change is possible. Our seventh anniversary of meeting has just passed, and we simply have no experience of conflict. (This is the place where Maude always likes to point out that no conflict doesn't imply no passion. As she says, we experience passionate peace.)
In "Secrets of a Successful Relationship Revealed" we share some basic keys towards having a rewarding, peaceful and joyous relationship. In fact, we are convinced that these keys can be applied to all relationships. One of the basic ideas that is central to this success is a simple understanding — that your partner is a person different from you, with their own ideas, desires and habits, but just like you in that they value their autonomy. Once you trust that your core values are aligned, you can honor their independence and rejoice in experiencing their uniqueness. When they grant you the same, the sense of liberation is exhilarating and empowering.
"This is a wonderful book. It's about selflessness (as opposed to the selfishness which so often characterizes relationships). It's about achieving a level of communication which enables a true sharing of the best of each other's qualities while respecting differences. It's about learning how to "act in the living present" (to borrow a line from a Longfellow poem). And, it is so much more, because it is not the usual manual of "how to have a successful relationship." Instead, it gives the reader a window to experience the authors' personal intimate exchanges, letting one feel as though having traveled with them. It is a very good read." Sam Redman
A Path to Peace
You've probably seen relationship advice being offered before, so you're expecting to reach the end of the page, only to be offered a $15 ebook or a $27 paperback or 6 DVDs at only $29/month. But this is different. Our goal is not commercial — we wish for everyone to experience the peace and joy that comes from a harmonious relationship. And by so doing, we hope to help spread peace in the world and make a better future.
"Be the change that you want to see in the world."
Mahatma Gandhi
A Different Relationship is Possible
To grasp an idea takes a single moment of understanding, like solving a clue in a crossword puzzle – the realization occurs in an instant, and once known, is never forgotten. Once this happens, everything changes. "Secrets of a Successful Relationship Revealed" is filled with specific keys for achieving peace within relationships. These keys are described in a running conversation between us — Phil and Maude — which is both easy to understand and effective to apply.
"This book surprised me, as it offers a path to all peaceful relating and isn't just for couples "working it out". I'm a single gal; been single for over 12 years, so I am often intimidated by "relationship" self-help books. Yet as I began reading "Secrets", it clearly showed me it is the relationship to myself that can be altered and softened, allowing peaceful exchanges with others to spontaneously occur. Through the blogs and playful musings of Maude and Phil, I was able to see I too could have a more positive, receptive posture that invites relationship possibilities." Iris Cutler
So many people talk and write that relationships are hard work. We see that attitude as creating unnecessary negative images. To assume that all relationships have difficulties is to limit the horizon of what may transpire between people. Believe that more is possible, and your world will change to meet your imagination.
Get it Now
We want these ideas to spread, so we're just covering costs to make the book available! The paperback is $9.95, and the ebook is just $2.99. Visit CreateSpace or Amazon for the print version, or order the eBook format of your choice here:
| | | | |
| --- | --- | --- | --- |
| mobi | | | for Kindle Readers |
| pdf | | | for reading on your own computer |
| epub | | | for Sony and Android Readers |
Visit the Apple store to read us on iPad, iPhone or iPod touch, the Sony store for the Sony Reader, or Barnes & Noble for the Nook.