Not everyone who is married is a difficult spouse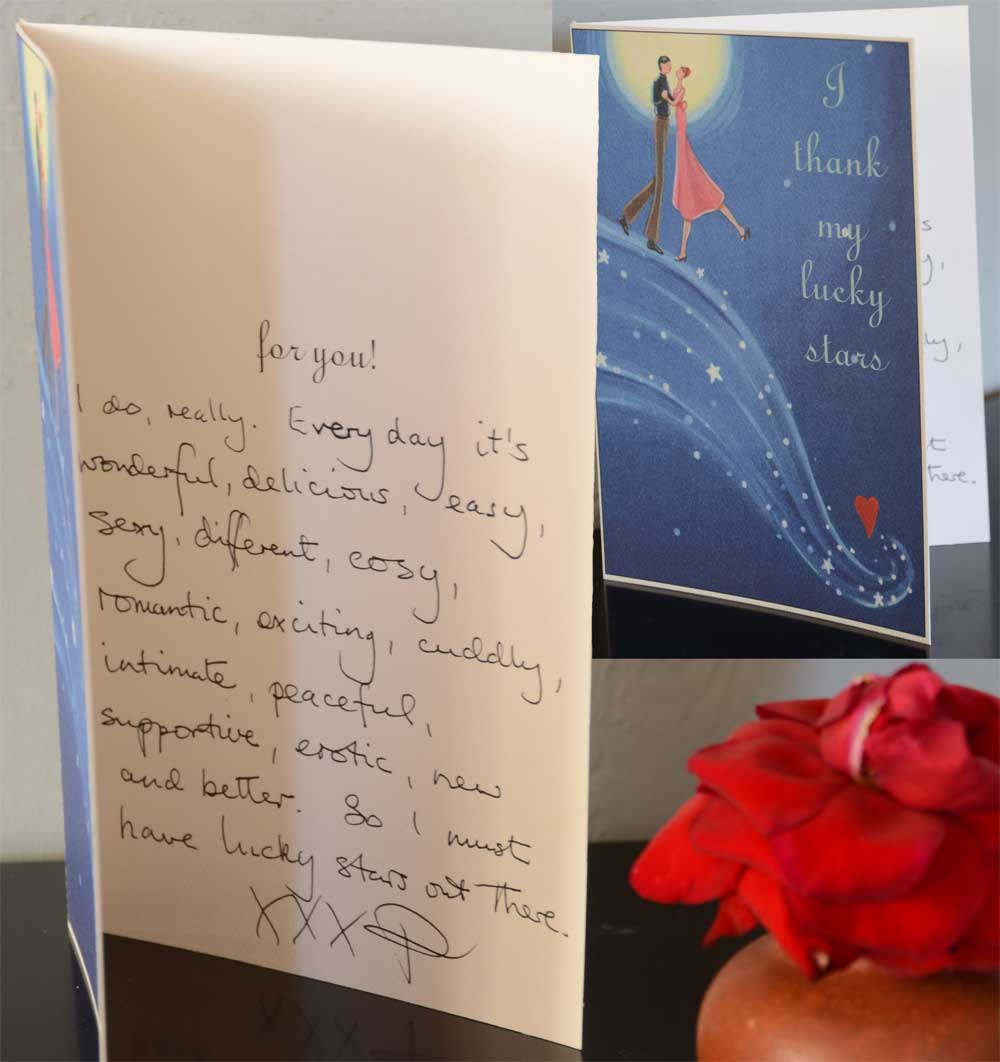 Psychology Today ran an article "Are You with the Right Mate?" which has much sage advice on relationships, but like nearly every relationship article, it talks in terms of conflict and negotiation: "Everyone who is married is a difficult spouse."
That's not my experience.
I suspect that the immediate reaction of many people will be to say that I am in the honeymoon stage, or in denial, so let me offer some context. In my whole life, relationships have lasted three years or so; a couple extended to 5 years if you include all of the messy disintegration. Yet with Maude, our 7-year anniversary of meeting is upon us, and we simply have no experience of conflict.
I've looked long and hard at this, and still cannot be sure of the reason. Sometimes I think that I have changed, that age has mellowed me, that self-reflection has centered me and revealed the fickleness of my desires. Often I credit Maude for her acceptance, her openness, her positive attitude and her constancy. And sometimes I think grace played its part in allowing us to find each other.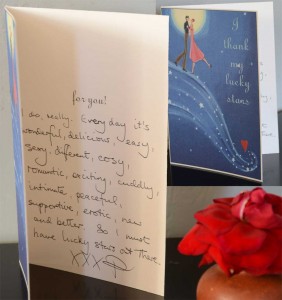 Whatever the route, it's the result that counts, and I am certain of the goodness and qualitative difference of our relationship. We frequently give each other cards, which we both keep; recently we've been looking at those collections, and I was amazed and delighted to find that the words I had written and forgotten were still exactly true today.
I understand that many people may attribute my claim of a successful relationship to background or luck. I think not. Maude comes from a loving family, and she says this is the relationship she always dreamed of, while I came from a suppressed English family, who, for example, dealt with sex education by sending me to the local vicar, whose embarrassment matched mine.
But here I am today, living proof that change is possible. Even though that change took much of a lifetime in the crucible fired by many failed relationships (and I humbly apologize to those people for my failings), I don't believe that change need be a long arduous struggle. It comes from understanding a simple idea – that your partner is a person different from you, with their own ideas, desires and habits, but just like you in that they value their autonomy. Once you trust that your core values are aligned, you can honor their independence and rejoice in experiencing their uniqueness. When they grant you the same, the sense of liberation is exhilarating and empowering.
To grasp this idea takes a single moment of understanding, like solving a clue in a crossword puzzle – the realization occurs in an instant, and once known, is never forgotten. Once this happens, everything changes.
Articles that assume all relationships have difficulties – "Everyone who is married is a difficult spouse" – limit the horizon of what may transpire between two people. Believe that more is possible, and your world will change to meet your imagination.