People Share How to Transcend Turmoil with Inner Peace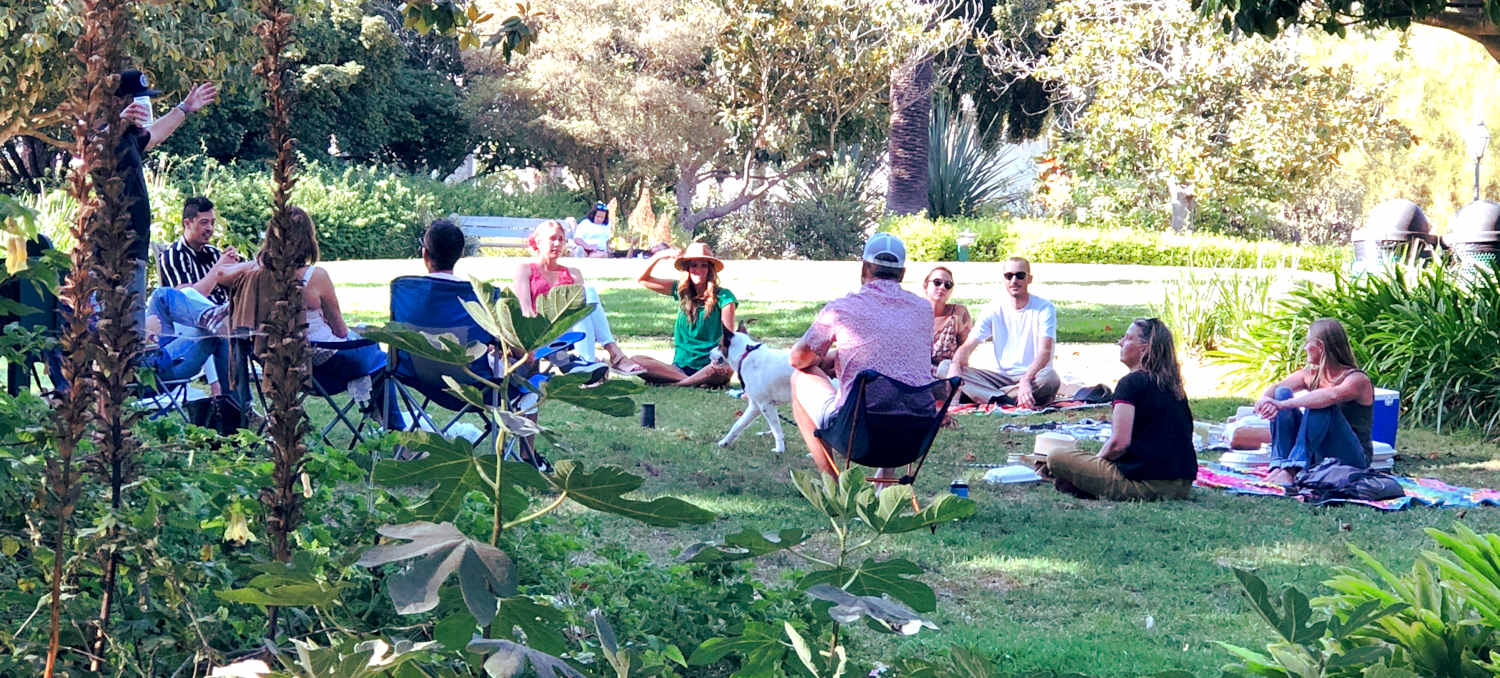 Podcast: Download
Subscribe: Apple Podcasts | RSS
Last week we wrote about How to Transcend Today's Turmoil with Inner Peace. We ended the blog by asking "What is it that you do? What refreshes your spirit? What brings you peace? How do you stay present while remaining alert to what is happening? Tell us a few of the things that work for you. We are all in this together."
We got so many great responses that we will be sharing them in both this blog and next week's. Enjoy!
---
I've dealt with many troubles and disappointments over the years, but I've always felt centered and emotionally stable–until now. I think the political climate is destabilizing for everyone by making us question our own sense of reality. It's not about politics–it's about decency, sanity, and respect. I'm heart-broken that we Americans have come to this. Here's what I do for solace and escape: I lose myself in creating art. Creative endeavors are emotionally absorbing and by their very definition, optimistic acts. I would encourage everyone to tap into the creative side which we all have and express yourself through writing, music, crafts, art, inventing something, etc. We are all products of our time, and so our creative expressions are valuable voices in our world. Creative work is a powerful emotional outlet that is always available to us.
Marjorie Sarnat
https://www.marjoriesarnat.com/
---
During the pandemic, I've found comfort in routine. Though I've usually had some sort of regimen, now I'm a stickler; I find it grounds me. I begin the day by writing in my gratitude journal while I wait for morning coffee to brew—I pen gratitude for things big and small. It's a good practice, plus I believe that putting things down on paper is intention, and action follows thought.
Next, I meditate. After that, I get into emails, social media, and marketing posts. (As an author, marketing is part of the daily grind.) I try to limit social media time because I don't want to get overwhelmed—that can cause me to stress. Next, I have an exercise regimen that's part yoga, part strength training, part plain old aerobics. About 20 minutes.
After a shower, I take a walk with Paul, my husband, for fresh air and a change of scene. Back home, I write or read for a while before spending downtime with Paul, either a project we're working on together or catching an episode of a series we're following on Netflix. And then there's always the occasional Zoom meeting or class, and keeping up with family and friends by phone. By late afternoon it's time to prep dinner. We take turns cooking—whoever feels inspired goes for it. Cooking is a real comfort and I'm trying more new recipes. Before we sit down and have a glass of wine, Paul does late afternoon watering and garden stuff and I do some tai chi before dinner. Around eight or so we head to the TV room and watch a movie before bedtime.
Have I put you to sleep yet? I'll admit it's tediously boring but at least I'm still treading water. I consider myself a social loner—my own phrase—which means though I'm gregarious in a crowd, I can go long periods without much social interaction. When I was six we moved to the country, far from city or town. We siblings were encouraged to entertain ourselves, i.e.—Go outside! We did. Lots of long bike rides, treks in the woods, games. I sometimes envision the lockdown as if Paul and I were on a sailboat far out to sea, no port in sight. Early on I viewed the lockdown as though we were on a starship, cruising to a faraway planet. Both hands on deck, responsible for making our own way, come hell or high water.
Jeanine Kitchel
https://www.jeaninekitchel.com
---
–I sit in my garden and listen to our fountain and watch the rabbits eat our grass or the dying flowers I throw out for them.
–I try to focus on the day I'm in and only one day ahead rather than imagining months more of semi-lockdown.
–I don't watch the news.
–I try to have a routine, which I find centering and soothing.
–I write postcards for politicians I believe in, so at least I feel I'm making a contribution toward a just society.
–I have accepted that I'm a driven individual and, rather than fight it, just keep churning out my work. I'm not great at doing nothing.
–I go into my craft room. Right now I'm embellishing thrift shop boots worthy of a rhinestone cowboy!
–I find seeing friends–outside, masked, 6 feet apart–as necessary during this time as breathing. Isolation is the worst.
–Physical contact with my husband is another must. I just heard about all the health-enhancing benefits of hugging, so now I have a medical rationale for cuddling!
Barbara Greenleaf
http://www.barbaragreenleaf.com/
---
Here in Baja, Mexico, we are well, healthy + enjoying ourselves during this strange new world of ours.
Of course it was a huge disappointment to have to cancel our summer/fall in Europe, but, we're not the only ones with a change of plans….we have adapted!!!
Our love + friendship has been strong…..we talk, we hug, we love, we enjoy….of course we have those moments (me, especially)…..but, they pass rather quickly…..a few words + hugs from the other really helps!!!
We are fortunate to have the beautiful Sea of Cortez + Bahia de La Paz to look upon…..and our roof terrace has been a source of joy during this lock down time….we watch the dolphins playing, see the few boats passing by (the ports have been closed so going out on our boat has not been possible), we love our beautiful sunset cocktails every night (I have quite a portfolio of sunset images!) and Johan is flying kites every day from the roof deck….he has amassed quite the collection of them!!!
We each enjoy our own activities + projects, so when not together cooking, baking, watching, talking, planning, etc, we are quite content: Johan enjoys his kites, drones, boats, biking + reading…..I have my art + photography projects, writing + yoga/exercise/biking….it's been fun making many dishes that we always wanted to try, but never took the time to do….it's also been fun watching many old movies again…..and we each have our special programs to watch while on the stationary bike!!!
We keep in touch with family + friends…..and we continue with our local Spanish teacher via FaceTime….good to have a schedule + homework!!!
Barbara, La Paz, BCS, Mexico
---
I try remembering what it is that I really value and create some simple, well-known nudges that keep me on track. These nudges are also based on my intentions and core values. Right now Passion, Communication, Kindness, Humor and Commitment are all big for me.
So, to put those values into my mindset and actions, I repeat many of these one-liners throughout my day: "I am a child of God, so I'm a spirit having a flesh of a time." "Take my passion and make it happen." "In speaking, is it true, necessary or kind?" "What is mine to manage?" "Am I being invited to comment?"
Oh, I forgot…when I'm cranky, irritable, or really pissed off, I go to bed.
Barbara Maier
---
REDISCOVERING ME
Transformation happens when you least expect it.
I had recently moved into a new home in a new neighborhood. Buying and selling houses and moving during Covid were stressful; understatement. After a few weeks, I was beginning to settle in and explore the neighborhood and learn the secrets of the intercom and my stacked washer/dryer. No matter where you live, there is always laundry. It had been decades since I lived in an apartment house. Finally, feeling somewhat settled, I was ready to explore the neighborhood.
Then, at 10:00 p.m. watching "A French Village" on Amazon Prime, the lights went out. I decided it was best to go to sleep. I learned the next day when electricity was still out, that my building, as did homes all over Westchester, New York, lost power due to a ferocious wind storm. Trees toppled, roads closed, damages to home and hearth were tragic. Shops and workplaces that were just trying to survive through the pandemic, permanently shut down. The beautiful Village became a ghost town.
A backup generator in the building only supplied electricity to the lobby, hallways and one elevator.
DAY 1:
I resumed my daily Zoom morning meditation even though I would "miss" seeing the many friends I had become connected to from all over the world and just sat and meditated thinking this is what the Buddhas have always done.
I abandoned waiting for the one working elevator and walked up and down the 8 flights of stairs. I soon came to treasure my daily walks without listening to Audible. I paid attention to the streets, the landscape, where I was, since there would be no GPS to guide me home. Masked strangers smiled with their eyes or waved to each other and to me. I reciprocated.
DAY 2:
My nose told me it was time to dispose of everything in the fridge. It is a very large fridge and of course, I had just filled it the day before Day 1. Over the next several days, I ate all the non-perishables in my pantry that I had been saving for a rainy day. I figured it was the rainy day. Besides, I really do love canned sardines, or so I told myself.
I realized, as we all do during this pandemic, I had no idea what would happen next. When would power return? Would I ever eat ice cream again or FaceTime with my little grandson? Would he be all grown up and want to FaceTime with a girlfriend instead of me?
Would I be OK, safe? What if…?
After I mourned the loss of all my devices, my Zoom connections and activities, the ability to call/text/email my children or friends, except when in my car where I could charge the phone and get cell service, I began to think I would run out of gas and gas stations would be closed. I pictured all kinds of worst-case scenarios. I stopped talking with neighbors about the devastation and loss and their tales of woe. I stopped talking in general. I decided not to drive much anyway, not fearing a gas shortage as much as being terrified approaching an intersection without traffic lights working.
I listened closely to the silence and became aware of its sounds; the sounds of comfort. The birds were still chirping.
DAY 3:
I read and reread Classics I had read in grad school: Dante's Inferno; Beowulf. I marveled at how wonderful the gift of time is, and recalled the joys of being a serious reader and not looking at my watch or checking my phone. I found myself lost in words again and their pleasure.
I was grateful for large windows and ambient light.
I awoke and slept according to the sunrise and sunset. I had new respect for a lantern I had bought during Hurricane Sandy; LED flashlights and for a basket full of batteries. A glorious red sky at dusk and a deep blue cloudless sky when the fog burnt off were my art appreciation proxies.
I remembered the joy of ice-cold showers; especially when there is no AC to cool you off.
I resumed embroidering a table cloth I had abandoned 17 years before as a wedding gift for my daughter.
DAY 4:
I stopped asking what if? Not useful at this time.
I decided to send notes to everyone I knew (that's hyperbole), put them in an envelope with a stamp. I hoard beautiful notepaper. I have a prize Pelikan fountain pen that I had time to fill. I have stamps! Voila! The post person still came, delivered and picked up the mail. I'd add little quotes: Jack Kornfield, "It's never too late to begin again."
DAY 5:
I resumed yoga practice and walked on my toes to practice the Viennese Waltz. I rolled up my rugs and danced like nobody was watching, since nobody was watching.
DAY 6:
I doubled down on my self-care – gave myself a facial; a foot massage, took out my 5-pound weights and did some triceps work. I resumed doing 5, then 8, then 10 good push-ups. I had been doing these years before.
DAY 7:
I awoke at 4:00 a.m. when the lights I had left on, the TV and the AC all bombarded me. I got up, shut everything off and waited for dawn.
Then I meditated.
DAY 8:
Did I really need to charge the iPhone?
Not yet.
Jane Sandbank
https://www.janesandbankgroup.com/
---
Photo credit: Maude Mayes